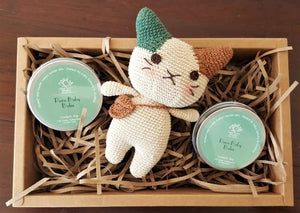 Natural gifts for a young baby!  2 tins of our Pure Baby Balm - for happier & healthier babies - and our GORGEOUS hand-made 100% natural Maew Maew Baby Toy, made from naturally dyed organic Thai cotton and stuffed with pure natural Thai cotton.  Safe, comforting & plastic free.  Organic, natural, hand made, fair trade.

100% natural Pure Baby Balm, for baby bottoms, soothing dry skin and to protect chafing.  Naturally unscented, emollient rich and healing for sensitive skin.   Organic beeswax contains natural vitamin A to heal & repaid damaged skin, and helps repel moisture.  Literally safe enough to eat. 

Ingredients:  Natural & organic Thai beeswax, Premium rice bran oil, Cold pressed extra virgin coconut oil, Cold pressed organic sesame oil, Pure Vitamin E and Vetiver essential oil. 

Packing: Recyclable, screw top aluminium tin.

Net contents: 80g net per tin.

Maew Maew Baby Toy.  Organic, vegan Thai cotton, naturally dyed from plant extracts and lovingly crafted.  Stuffed with organic natural Thai cotton.  Completely washable.  Soft & comforting & contains NO buttons or choking hazards.  Because baby's safety matters as much as baby's health.  That Mae Maew is hand made in a Karen village just outside Chiang Mai and not in an Asian sweat-shop factory?  Now THAT's a game changer!

Beautifully gift-boxed in a natural, brown paper box.

In our multi-racial Thai world, we deliberately vary the skin tones on Maew Maew - she comes in a range of random natural shades from cream to darker brown.