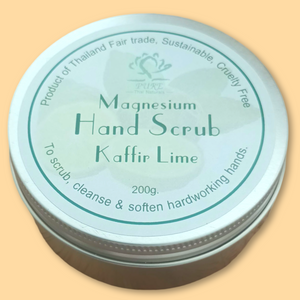 A gentle scrub to help clean, scrub, cleanse and soften hardworking hands.  Fragranced with Kaffir Lime essential oil to uplift and rejuvenate when it's time to relax.  Helps to calm and smooth your tired, helping hands.
Ingredients: Magnesium sulfate, Natural Thai mineral salt, Pure cold pressed virgin coconut oil, Kaffir Lime essential oil.
200g in a reusable & recyclable, aluminium screw top tin.