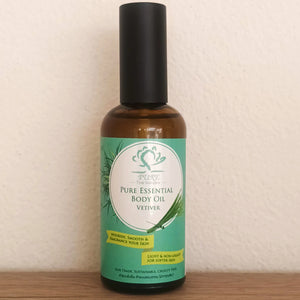 Calming,  soothing& sensual for all over skin treatment or massage.  Gentle, nourishing, non-greasy & a daily skin health treat.  Vetiver essential oil has been well studied & clinically demonstrated to help reduce stress, lower blood pressure, support relaxation and gently enhance sensuality, all whilst improving the health and appearance of your skin.  Definitely an all over treat to savor, and share! It smells AMAZING - a subtle, warm fragrance like a soft sandalwood...  earthy and woody.

Ingredients: Pure rice bran oil, Cold Pressed Virgin Coconut Oil, Vetiver essential oil.
Packaging: Brown glass bottle with pump dispenser.
Contents: 100ml net