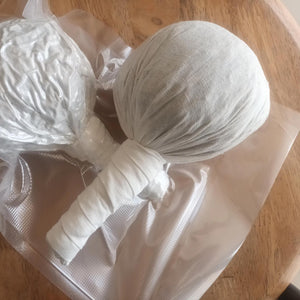 Traditional Thai Luuk Phra Kob - Thai Herbal Massage Ball - warm, steaming, gently relieving aches and stiffness.  

We make our herbal balls using natural herbs from here in Northern Thailand.  Our balls do NOT included Kaffir lime leaves or peel, which is barred from entry to the USA and may other countries due to the citrus mold they often carry.  We replace the kaffir lime with the very old fragrant Lanna herb, Wan Sao Long, which has been used as a medicinal herb in Asia for eons.  We vacuum seal our herbal balls to ensure optimum freshness and to protect you, your staff and your customers from dangerous molds. 

Ingredients: 

Net contents:  1 Thai Herbal Massage Ball, 150g, vacuum packed.